About Us
As a nation, we find ourselves at the heart of a financial crisis. The government faces the task of dramatically cutting public spending within its term in office and the latest emergency budget has not taken dramatic steps to support businesses and grow their opportunities.
In short, much hope lies with the UK's entrepreneurs who will play a huge role in returning our economy to its position at the forefront of global industry. We have an incredible history of entrepreneurialism in the UK, which largely goes unsung. With the advent of online business, it is now easier than ever to start a business and to excel in all industries, many of which did not exist ten years ago.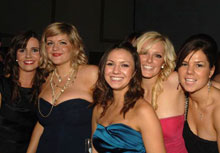 The Digital Entrepreneur of the Year Awards are proud to honour the pioneers of the internet. From steadfast business leaders who spot commercial opportunities to technical geniuses working tirelessly behind the scenes on digital advancement, our awards have been rewarding internet greatness since 2006.
We are passionate about promoting the minds behind the net and giving them a forum to share their knowledge in order to encourage future entrepreneurs to follow in their footsteps. With this aim, we work closely with all of our winners to improve their voice within the business community and join forces with other successful companies to continue pioneering within the UK's webspace.
Our overview of the internet has also been heightened by our partnership with dedicated server provider UKFast, who has been looking after the internet fortunes of many of the UK's most competitive brands for over a decade.